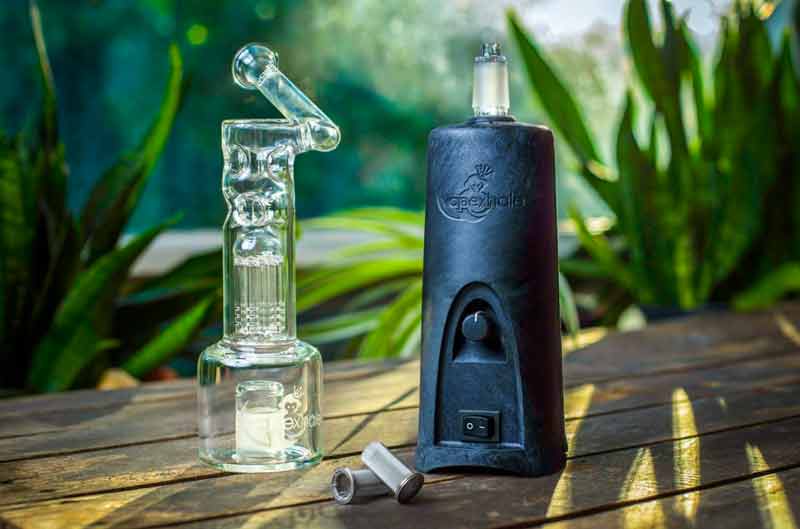 Herb Vaporizers
Herb Vaporizers
Herb Vaporizers | Desktop & Portable Vapes for Herb at To the Cloud Vapor Store
Herb Vaporizers work by heating your plant to a temperature hot enough where cannabinoids will be extracted but below the temperature where herbs combust like with smoking. In the vaporization temperature range, from roughly  280°F to 430°F,  only active ingredients such as Terpenes are released into gaseous (vapor) form for you to inhale leaving the structure of the plant intact, often referred to as ABV (Already Been Vaped). Many consider Vaporizers  to be a healthier alternative to smoking and in Canada, the European Union And Israel Storz & Bickel carry a medical device classification. 
Herb vaporizers come in many different sizes and models broken down into two common categories: Desktop Vaporizers and Portable Vaporizers. 
Portable Herb Vaporizers are generally battery operated and run the gambit from being able to throw in your pocket without issue, like the G Pen Dash , to being rather large and something you can take from room to room or out on the patio, but not something you want to take to a concert.  Most portable vaporizers are all encompassing meaning you don't need to mess with external parts during your session. However some like the Arizer SOLO 2 require external glass draws. 
Desktop Herb Vaporizers are larger vaporizers which plugin to a power source in your house. Desktop Vaporizers have been proven to last longer and offer greater consistency but at the cost of being stationary with a more involved process for your session of drawing from a whip, bag or even water filled glass like with the VapeXHale Cloud Evo. Desktop Vaporizers are suitable for the at home user, but also great for social occasions. 
Herbal Vaporizers function by one of two ways or a combination of the two. Conduction Vaporizers heat the plant by placing the herb in direct contact with the heating element, like on the Davinci IQ2 or PAX 3. Convection Vaporizers rely on hot air passing from the heat source through your herbs. The Firefly 2+ heats via convection initiated by your draw, while the Classic Volcano utilizes a fan to push the hot air through your herbs and capture the vapor output into a bag. Many Herbal Vaporizers use a combination of the two, such as the Crafty+ or Mighty which have a stainless steel conduction chamber and a heating element in the bottom of the vaporizer which pulls hot air through your herbs as you draw. 
If you are looking to buy an herb vaporizer, To the Cloud Vapor Store has the best prices and free shipping on a  wide selection of the best desktop and portable vaporizers on the market. We sell both new and refurbished herbal vaporizers and offer a 60 day trial period and lifetime trade ins on every vaporizer sold.
If you need even more information on what vaporizer to buy check out our Top 5 Herb Vaporizers by Category.