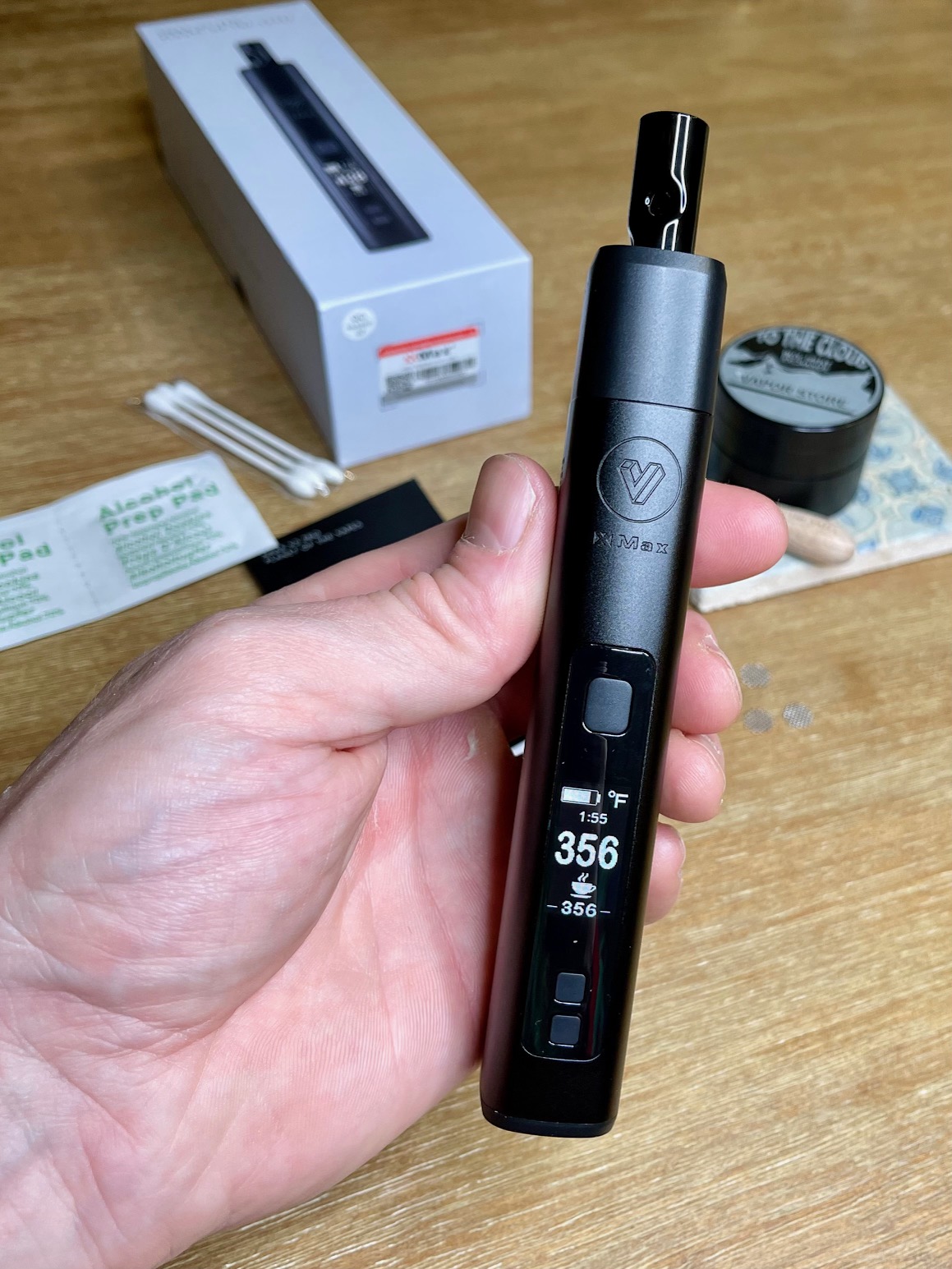 POTV XMAX V3 PRO Review | An Unbiased Look & Assessment
We have some mixed opinions on XVAPE (now XMAX) at To the Cloud Vapor Store. When I started out – a young naïve buck in the vaporizer industry –  XVAPE had some pretty sub par vaporizers; All Chinese rebrands with off putting vapor quality and given a hefty markup during the hay days of the late 2010s when all vaporizer manufacturers were cashing in. For retrospect these were the days when the Classic Volcano was selling for $539 and the Arizer SOLO 2 was going for $269. They are now much much cheaper. Understandably so with high prices across the board, the budget vapes were going for what you can now get a mid-tier PAX 3 or Boundless Tera for. 
After trying one of their vaporizers in 2017 and not linking it much we still are yet to reassess and carry the XVAPE brand. It does look like some things may have changed with the brand, even undergoing an unofficial name change from XVAPE to XMAX. Moreover we have taken note of what many are saying about two particular XMAX Vaporizers the Starry and the XMAX V3 Pro, which have received more positive feedback than negative. 
Once Planet of the Vapes took on a partnership deal with XMAX for the special edition POTV V3 Pro we decided to give it a try ourselves.
Planet of the Vapes Custom Edition XMAX V3 Pro
Planet of the Vapes is one of the largest and highest rated vaporizer retailers on the internet. While we would prefer you buy directly from us, if you cannot find a certain vaporizer here, such as the POTV XMAX V3 Pro, then our friends at Planet of the Vapes will take care of you and give you the same 5 star service you have come to expect from To the Cloud Vapor Store.
Planet of the Vapes has also included some additional customizations on the mouthpiece and removable 18650 Samsung battery which make it an improvement over the standard XMAX V3 Pro which we will get into later. However , you can rest assured with a 14 day no questions asked return period offered by Planet of the Vapes that they stand behind their custom edition.
Without further ado let's do an unbiased review of the POTV XMAX V3 PRO and see the tweaks Planet of the Vapes has added to their V3 Pro.
First and foremost it is important to know if the POTV XMAX V3 Pro will fit your budget. At $109 it will not break the bank, but with plenty of competition in this space you will need to consider some of the other factors we will cover in our XMAX V3 Pro review. This will also help you decide if something cheaper like the G Pen Dash or Atomic 9 will suit you better.
After checking the V3 Pro out, $109 does feel a tad expensive but not too far off. If I were blindfolded and sessioned with this vaporizer I would guess $89. Planet of the Vapes does offer a 14 day no questions asked money back return on the V3 Pro so you can buy, try and decide for yourself without needing to worry about buyer's remorse.
The V3 Pro comes in a straightforward packaging, nothing to really write about here. The one benefit is the vaporizer comes ready to roll out of the box without the need to assemble anything. The box takes on the design of the modern and clean Planet of the Vapes style. The packaging serves a purpose to store and protect. The vaporizer can easily be put away and taken out. I would not discard packaging here as with a glass mouthpiece and OLED screen you will want something to protect and store your vaporizer.
Comes With
The V3 Pro does not come with much, but what you need. This is nice to see as the waste some other vaporizers contain just makes you wonder why the excess when the accessories are neither functional nor optimize anything.  
Charger 

Instructions 

Brush 

Alcohol Wipes 

USB-C cable 

Dosing Capsule
Initially I would have liked to see a pick to stir mid session and unload after but soon realized the back part of the mouthpiece is actually designed for this.
The V3 Pro is a rather minimalist vaporizer which comes fully assembled and ready to rock as mentioned above. It is also nice to not see any oil pod or liquid pads for concentrates. This is not a concentrate vape and far too many herb vapes have tried to parade around as dual use when this is rarely the case. 
The XMAX V3 Pro consists of an exterior alloy shell, stainless steel herb chamber and dimpled glass mouthpiece which connects via a silicone grommet. The removable 18650 battery comes out with ease via the magnetic battery door and there are some air intakes on the side of the unit. On the bottom you will find the USB-C input and the ROHS certification stamp.
The unit is solid but the outer shell does feel like a lower grade alloy than the shell on the PAX Plus, PAX 3 or Arizer SOLO 2.  The glass mouthpiece is a nice touch and there are plenty of customizations and V3 Pro aftermarket mouthpieces for whatever you may fancy.
| | |
| --- | --- |
| Dimensions | 6.75" x 1" x 1" (in.) |
| Weight | 3.7 (oz.) |
The best sessions are going to be using the V3 Pro as a session vaporizer. Packing full (.2 grams) and enjoying the entirety of the chamber in two 4 minute sessions.  
The on demand mode leaves a lot to be desired. I will say this is one of the worst on demand convection vaporizers for vapor production and you really don't get the good hits until your 3rd or 4th go at it which still requires some long 8+ second pulls. 
With a full pack (.2 grams) in session mode you can expect about 15 hits. The first two hits give next to no vapor but do offer the great flavor profiles of your herb. It is not until about the 5th & 6th draws you get some solid vapor production, unfortunately here is where the flavor of your herb starts to wane.
On demand / session mode 
The POTV XMAX V3 Pro arrives in session mode by default. When you turn on the V3 Pro it begins to heat up  (session mode). Once the vaporizer hits temperature a 4 minute session timer begins counting down after which the unit will automatically power off. 
To Switch to on demand mode press the temperature up and down button at the same time. 
In on demand mode you can engage the heat for 30 seconds before it automatically powers off. Generally speaking you will only need to engage the heat for about 12 seconds in on demand mode. I did notice with the XMAX V3 Pro there is some more ramp up time needed with the heat transfer and for best results in on demand mode I was engaging the heat for 12-15 seconds. Whereas with the Firefly 2+ I only need to have the heat engaged 6-8 seconds. 
Another critique I had was the dosing capsule. Ideally suitable for micro dosing or just keeping your chamber clean, much like the Storz & Bickel dosing capsules. A great concept, but given the V3 Pro is pure convection, I felt it hindered vapor production even more so than what I was already finding with the vape.
What is the POTV XMAX V3 Pro Heat up Time ?
The POTV XMAX V3 Pro will reach 390°F in 24 seconds.
What is the POTV MAX V3 Pro Temperature Range ?
The POTV XMAX V3 Pro has a temperature range from 212°F – 428°F which can be dialed to the exact degree.
Vapor Quality
The vapor quality on the XMAX V3 Pro is slightly better than I anticipated from XMAX and what I recall with the vaporizer I tried at a trade show in the past. I would say the initial sessions with the V3 Pro provided even better flavor than some of the highly regarded Boundless Vapes which can taste a tad plastically while you break them in. 
The first two hits were very tasty but produced little to no vapor. Once the vapor started coming in, the flavor really faded. It should  be noted that using old and dry herb gives some pretty chokey bothersome texture. If you are making a switch to vaporizers you will use alot less herb. If you want the best vapor quality keeping your herb fresh with something like the C-Vault will pay dividends for your throat. I have so much herb lying around I did this review with some fresh high grade stuff and some old stuff that was sitting in an assortment of grinders. The fresher the better for sure. 
Convection vaporizers are supposed to give the best flavor; the trade off being less vapor production compared to conduction. The unfortunate part of the POTV MAX V3 Pro is you get neither great flavor nor good vapor production.
This is a very easy to operate vaporizer, about as straight forward as one could want. 4 presses of the home button to turn on, up and down button to change temperature and an OLED screen readout letting you know temperature, battery life and session time left. 
Making the V3 Pro even easier to use is that it starts heating automatically once it is turned on. There is no playing around with a sequence to power the device on then another sequence to engage heat like with the Boundless Tera V3 – causing all sorts of confusion with new users.
The V3 Pro is portable to the same extent as the Arizer SOLO 2 or something similar. Its over 6" length and glass mouthpiece make it a liability to pocket and even with no glass mouthpiece the way the magnetic lid and battery cover come off with ease add to that liability. 
It is a great portable vaporizer to throw in your purse, walk your dog with or relax on your patio. It is not however the pocket friendly ultra durable portable vaporizer like the PAX 3. 
The special edition POTV V3 Pro comes with a dimpled glass mouthpiece. The dimples are designed  to create more travel distance within the short 1 inch length for the vapor to cool before inhaled. What is nice here is you can add a standard plastic OEM mouthpiece for travel , a bubbler or one of the many customized mouthpieces Planet of the Vapes sells which offer you an optimal touch for whichever variation you are going for.
The X MAX POTV V3 Pro uses a removable 18650 3200 mAh battery – a Samsung INR 32-E to be exact. Oddly enough the battery has the text on it saying to not use with a vaporizer. Planet of the Vapes explained the underlying issues in a Reddit post here saying that it is more a legal mitigation on behalf of Samsung and also intended for E-cigarette type vapes which shoot to super high temperatures at much faster rates causing greater energy shifts and thus a greater probability a vaporizer blows up in your pocket – an issue not even on the radar for herb vaporizers. 
To further put you at ease the POTV XMAX V3 Pro is ROHS certified meaning it passes some pretty high standards of quality control from an external regulating commission. 
The POTV V3 Pro charges via a USB-C cable but even then charging the battery in the unit takes a while. Here it was about 90 minutes until it was close to fully charged from dead. We have said in the past it is worth picking up a cheap external charger off Amazon to charge your batteries faster, but another great feature of removable batteries is that you can always swap them out with no downtime. 
It was nice the vaporizer arrived nearly fully charged as well so we got to start our V3 Pro review right out the box and on that charge I got 13 sessions until the battery died. 
Cleaning the V3 pro is rather straightforward and intuitive. The one difficult part being taking the small screen out of the V3 Pro top and cleaning in and around the silicone grommets. Other than that this thing is breeze to clean whether a rudimentary cleaning or deep cleaning.
POTV XMAX V3 Pro Takeaways
Overall the POTV XMAX V3 Pro is a budget vaporizer for those who cannot spring for something more quality like an AirVape Legacy Pro or for those who want to get their feet wet and try out a dry herb vaporizer without breaking the bank. 
The vapor quality does leave alot to be desired but that is speaking in relation to something like the $400 Mighty+. As an entry level portable vaporizer the V3 Pro is rather solid in both function and feel. The $109 price tag does feel a tad too much as this vaporizer should be in the $89 range. 
POTV is a great company and they do one better in offering the X MAX V3 Pro with a 14 day trial period in which you can return the vaporizer 14 days after receipt for a full refund, no questions asked.  So if you are wanting to try out a good budget vaporizer that won't break the bank the XMAX V3 Pro is one to put on your list and with Planet of the Vapes' 14 day return window you can be certain you will not be left with buyer's remorse.