2019 Black Friday Cyber Monday Vaporizer Sales
The Biggest Vaporizer Savings of the Year November 27th to December 3rd
The biggest vaporizer sales and savings are upon us this Black Friday and Cyber Monday Holiday and we're giving you a run down of some of the best deals on Arizer, Storz & Bickel, Ghost, Boundless and all your other favorite vaporizers.  
Black Friday and Cyber Monday can only be rivaled by the annual holiday vaporizer sales of 420 and this year with vaporizer prices already dropping across the board we at To the Cloud Vapor Store have some insane deals for you.
The makers of the best vaporizers on the planet have finally released some new products. It has been a long wait since the Crafty and Mighty Vaporizers came out in 2014.
Volcano Hybrid 
The Volcano Hybrid is the most high tech Volcano Vaporizer yet, guaranteed to impress any tech enthusiast, vapor connoisseur or just your regular old mom and pop toker. It comes with whip and bag option, heats up 10x faster than the Classic Volcano and can be programmed for almost every function using the Storz & Bickel Smartphone app. It's cutting edge technology and tried and true function make it something that is at the top of everyone's list this Holiday Season. 
 Get the Volcano Hybrid  for $574 ($125 Off) this Black Friday Cyber Monday  (no code needed)
Crafty+ 
The recently released Crafty+  Vaporizer boasts a handful of awesome improvements over the original and is dropping just in time for Black Friday and Cyber Monday. 
 Get the Crafty+ Plus for $219 ($60 Off) this Black Friday Cyber Monday (no code needed)
                      Crafty+ Improvements 
Heats up in under a minute 

Preset temperature and super boost with the press of a button 

Longer battery life 

3 year warranty upon registration 

Improved exterior design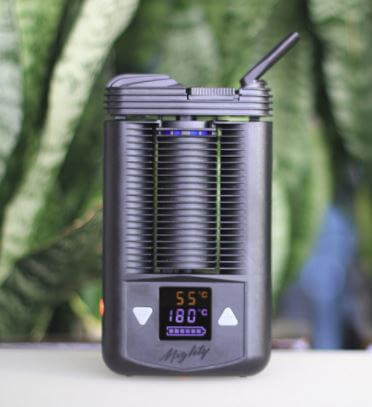 Mighty 
For those who still want dual battery power and would rather not screw around with their smartphone, there is the tried and true Mighty Vaporizer. Still considered the best portable vaporizer on the market 5 years after its release. The Mighty is the bigger sibling to the Crafty+ and more user friendly containing all the controls you need directly on the device. 
Get the Mighty for $269 ($80 Off) this Black Friday Cyber Monday  (no code needed)
Ghost MV1
Ghost brought us the MV1 in 2017 and for anyone who likes an on demand herb  vaporizer that packs a punch and fires for effect, the MV1 still cannot be beat. Once the vaporizer is dialed in it draws like butter and leaves you amazed at the vapor you are spitting out. There is nothing like it on the market to get you feeling the buzz from  your herbs in the quickest manner possible.
This is our Black Friday / Cyber Monday deal of 2019. When the MV1 was first released it costs $295. There have been two price drops since and the Ghost MV1 is now regularly priced at $225. Add on the Holiday savings of $60 off and you are buying the most recent refined model MV1 for 44% cheaper than it was upon release. 
Get the Ghost MV1 for $165 ($60 Off) this Black Friday Cyber Monday  (no code needed)
For those looking to try out their first vaporizer or just pick up a budget vaporizer Boundless have the greatest quality selection. But no one says that should an already great deal can't be made better. 
To the Cloud Vapor Store is offering huge discounts this Black Friday Cyber Monday on all the Boundless Vaporizers we carry 
Boundless Tera $60 Off –  $139.99 
Boundless CFX $60 Off – $119.99
Boundless CFC 2.0 $30 Off – $59.99 
Puffco Peak 
For the dabber in your life there are few devices that can deliver tasty pure and hassle free dabs like the Puffco Peak. Innovators of the design that has been copied by manufacturer's all over, the Puffco Peak remains the highest rated Desktop Concentrate Vaporizer.
Get the Puffco Peak for $289 ($80 Off)  with code CyberPeak
That's not it, we've got alot more deals and will be adding more deals to the list as the great shopping holiday draws closer. Scroll Down for additional Black Friday / Cyber Monday 2019 Vaporizer Sales