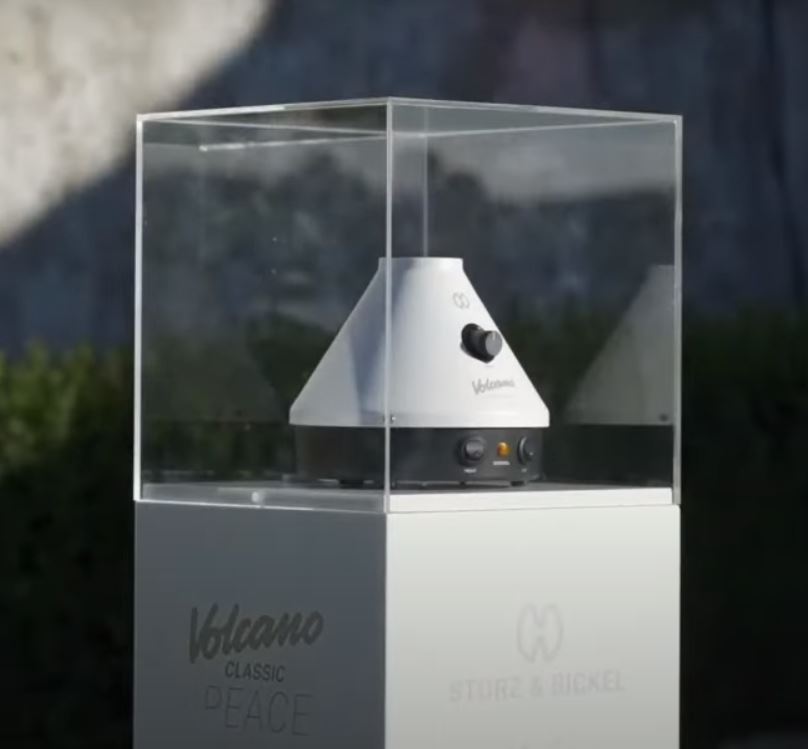 Storz & Bickel Release Limited Peace Edition Volcano Vaporizer
Storz & Bickel recently released a new limited edition Volcano Vaporizer dubbed the "With Love, for Peace" edition, or peace edition for short. The peace edition Volcano is a white Classic Volcano that will retail for $479, the same amount the classic silver, gold and onyx editions currently retail for. The Peace Edition is limited to 1000 pieces and is engraved in the back with the text " With Love, for Peace".
According to Jurgen Bickel, the white cone of the peace edition Volcano is meant to symbolize purity and peace. To go along with the theme of this release (and moreover give the accommodating press release and keynote speech some purpose)  Storz & Bickel is donating 100 EUR (about $97)  per peace edition Volcano to different humanitarian charities around the world who are helping those most affected by the conflict in Ukraine. While not stated outright, it does appear the late February Russian invasion of Ukraine was the driving force for this charitable creation. 
Is the Peace Edition Volcano a Marketing Miss ?
We have said time and time again Storz & Bickel make the best herb vaporizers in the world. Their success has largely been based on word of mouth. I purchased my first Volcano in college in 2008 on the advice and plea of a  roommate. Given I was living large on the GI Bill I splurged for it. Many who used the coveted vaporizer at our spot thereafter went and did the same. The Volcano is an amazing and social vaporizer that offers so many benefits over smoking for people all over the world, for so many different circumstances; essentially it is one of the best devices to bring peace to the world. For those who have used it socially, it serves almost as a table for strangers to break bread. 
What has always lacked with Storz & Bickel over the years has been solid marketing. This changed with the Canopy Growth acquisition, but not in a good way. Storz & Bickel marketing has been strange and off the mark. Take the Storz & Bickel advertisement below for the Volcano Hybrid  to drive my point home. It feels like a European perfume ad meets a level of Nintendo 64's 007 GoldenEye. 
Not to harp on Storz & Bickel as what they are doing is a very positive and great thing for the world. They are adding more value to the world than we (To the Cloud)  could ever hope to. However this campaign, while kind hearted and benefiting humanity,  still feels like a South Park spoof of sorts. The peace edition Volcano release could have foregone a live streamed event that got many vaporizer enthusiasts excited for what was anticipated to be a new product (that wasn't just a white Volcano). Even the live stream was random. It sounded like a UN speech.  Jurgen Bickel peeled back the curtains after talking about European Geography, cohesion and European conflict to presenting a white Volcano Vaporizer.
In an even greater WTF moment Storz & Bickel invited  journalists, influencers and some of the foremost authorities who professionally review and test out vaporizers. Many of the vaporizer reviewers in attendance we have personally met. They are fantastic humans but many are introverts who just happen to be obsessed with vaporizers. They aren't young, sexy or cool with a large following who would help Storz & Bickel get the word out.  If you are marketing something that you want the world to see you would need to pull out bigger guns.  The social reach of the guests in attendance is not that large, as you can imagine someone who talks about vaporizers on YouTube lacks the reach of say Sean O'Malley (up and coming UFC fighter) who has sold more Dr. Dabber vaporizers by just creating funny content on his Instagram than any of us who have actually reviewed the Dr. Dabber Switch.  If Storz & Bickel wanted to truly get their campaigns word out they needed to go bigger with the names. This is why we are certain more went on at the Storz & Bickel factory than just a peace edition Volcano release. 
Calm Down Nerds of Reddit
The basement dwelling Redditors across the globe went crazy when seeing this campaign live streamed and eviscerated the company on the Vaporents subreddit for what was largely seen as a braggadocios virtue signaling pat on the back.  Storz & Bickel flew 50 guests out to tour their Tuttlingen, Germany factory to enjoy a party at the extravagant  Schloss Bronnen Castle, only to release a white Volcano which will solve the world's problems. Yes we must say so ourselves, this is a tad hypocritical when discussing a climate emergency and humanitarian disasters. It really brings back memories of celebrities living it up during the pandemic while telling us to stay home. However to those so upset by Storz & Bickel's peace edition press release, we have to say relax a little. Or in marketing terms we should say "but wait, there's more."
Storz & Bickel's New Vaporizer | Behold the Real Reason
For whatever reason Storz & Bickel felt the need to hide the primary purpose for  their 50 guests and Peace Edition Volcano release press conference; or they felt they could get a dual use out of the real reason the most insightful minds in Cannabis Vapes were there. Again you don't invite these guys ( Troy & Jerry, Sneaky Pete and Vaporizer Wizard)  to influence & expand your audience. If you know who these guys are 100% chance you already know about Storz & Bickel. Getting new eyeballs is done with beautiful scantily clad celebrities & athletes, and yes Storz & Bickel works with such.  Vaporizer Wizard  is going to be considered one of the most knowledgeable vaporizer reviewers out there. Yet he has only 6000 followers on Instagram.   The attendees present were there for feedback, ideas, criticisms on a new vaporizer Storz & Bickel is rolling out for 2023. You don't even need to hear it from an industry insider, when Jurgen Bickel put it on display right here. So who better to invite than the guys who are like the fucking Michelin Star rating team for Vaporizers.
Getting in person feedback,  seeing the person use it, being able to collaborate and share ideas in real time (without any leaks)  with some of the other foremost experts who have the ears of the overall vaporizer community as well is the best way to develop a new vaporizer. This might of have been the best R&D user session in the history of vaporizers. If anyone would know how to run development of a new vaporizer  it is going to be the duo who invented the most iconic vaporizer to date and have remained head of the pack 20 plus years later.
Storz & Bickel May Not Need the Marketing
While Storz & Bickel's marketing is odd and often times random, it likely does not matter. Their vaporizers are celebrated the world over by long time vaporizer veterans and newbies alike, sold by word of mouth and user referrals. It could quite possibly be that the vaporizers doing the talking for themselves, which we have discussed in other posts about the once totally absent marketing arm of the German vaporizer manufacturer compared to the likes of PAX and Puffco, are actually a good thing given S&B as a small team does not need to spend absurd amounts of money to push units out the door, which in turn will let Canopy Growth find other avenues to lose an absurd amount of money in 😉
Given their past record we can pretty much guarantee Storz & Bickel's 2023 new vaporizer release will be another blockbuster vaporizer much like the Mighty Vaporizer  was in 2014. This will only be assisted by the feedback they received from flying out the top vaporizer authorities in the world.