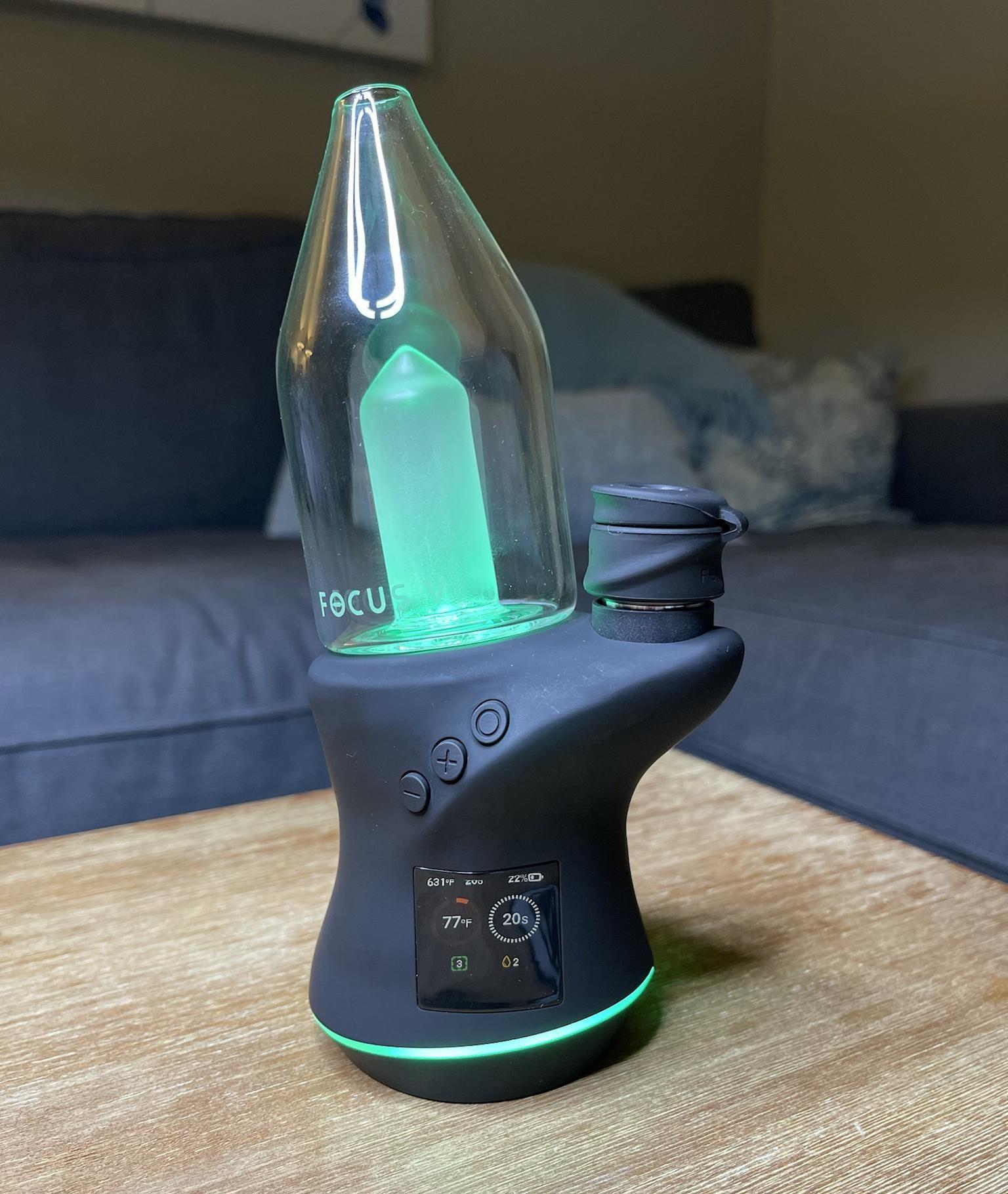 The Carta 2 Review | Focus V's Newest Vaporizer Delivers … BIG (HITS)
The new Focus V Carta 2 is a much improved electronic rig concentrate vaporizer which features an OLED display screen, easy to navigate controls, customizable RGB lighting and an improved 360° heating atomizer dubbed the Intelli–Core™ atomizer.
The Carta 2 Vaporizer is Focus V's highly anticipated follow up to the OG Focus V Carta V2. Confusingly enough the original (OG) Carta was dubbed the Carta V2. This was an internal manufacturing snafu of sorts. When the OG Carta was being produced and beta tested before release V1 was written on the bottom of the base. As internal upgrades were made to the unit  V2 was added. This was intended to be for internal records only but as the Carta was released it went out V2 stamped on  the base and all. 
This could be a reason Focus V decided to name the Carta 2 vaporizer "the Quantum" in beta testing. From a personal opinion a totally different name should have stuck as I am certain customers may find the Carta V2  and Carta 2 to be a tad confusing.
Price
The new Focus V Carta 2 comes in at $349.99. However if you use our link below, you can get $35 off with code VAPE10. This price is about what you will pay for other competitive e-rigs of this caliber with the latest technology. For those looking for a better value we recommend the OG Carta at $199.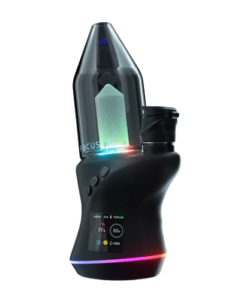 Packaging
The Carta 2 comes in a branded soft case inside your standard box you get with most electronics. The soft case is not on par with the new hemp cases from the likes of G Pen, but  is still a nice little case to carry and store your Carta 2. The case does have adjustable velcro straps on the inside letting you make customizable sized compartments for carrying your Carta 2 or any other glass, such as a mini rig, and also comes with a shoulder strap so you can rock it like a back pack and take to the beach or to a friends house without needing to hold it.
Build
The Carta 2 follows the conventional electronic rig design of 3 main components –  base, water chamber (bubbler) and atomizer. The Carta 2 is made from a plastic polymer base and is ROHS compliant. The base contains three main control buttons  and is also where you will find the OLED screen and the USB-C charging input.
Before we went hands on, we had thought the base was going to be the same rubberized silicone material they use on the Puffco Peak. This rubberized silicone is great for ergonomics, but the plastic polymer on the Carta 2 does feel sturdy. 
The Carta 2 glass is your standard bubbler and is backwards compatible with the original Carta. The inside of the glass is frosted which helps with the diffusion of the LED lighting.
The intelli-Core Atomizer is made of an aluminum alloy with the inside of the chamber made of quartz glazed ceramic. The atomizer comes in a silicone jacket and carb cap that has a glass airflow insert.
Carta 2 Comes With
Carta 2 Vaporizer
Focus V Case
Stopper plug
Instructions
Dab tool
USB-C cable
Isopropyl wipes
Q-Tips
Carta 2 Dimensions
| | |
| --- | --- |
| Weight | 14.9 (oz.) |
| Dimensions | 7.25" x 2.65 (in.) |
Intelli-Core Atomizer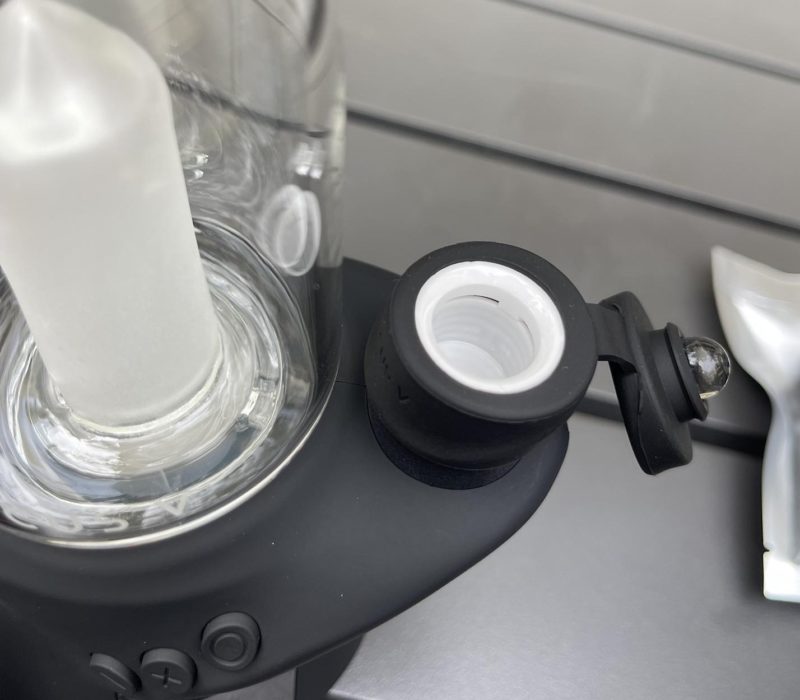 While I have admitted I am first and foremost an herb vaporizer guy, I have used all the top electronic rigs and nothing extracts in one fell swoop like the Intelli-Core atomizer for concentrates. No terp pearl, no directional airflow carb cap needed; just stock out the box – The Carta 2 atomizer left behind no residual rings.
The Intelli-Core Atomizer is trademarked and patented (U.S Trademark 10,271,579) which leads me to believe it is different from the rest in some way other than the 360 degree heating as heating from the side and the bottom is a feature on a few other chambers/atomizers. Then again patents in the cannabis space are getting a tad absurd and that is a whole different tangent.
OLED Display and Controls
The Carta 2  has an OLED display screen and three control buttons making it one of the easiest to operate electronic rigs. The screen provides you all the information you need in real time such as battery life, session timer and your set temperature. Changing your session timer or temperature is as easy as pressing a few buttons and a few practice runs and using our Carta 2 quick start guide below, you will be a pro in no time.
Getting Started with the Carta 2
Just as the Carta 2 is built like a standard e-rig , it functions like a standard e-rig. Your extracts are placed into a heated chamber/atomizer where they melt down and produce vapor which is drawn through the vapor path, filtered through the water and inhaled into your lungs.
Our Carta 2 arrived with about 36% battery which is nice. The  first thing you should do when a new vaporizer arrives is charge it while you read the directions.
I also don't listen to my own adivce 😉 I like to take vaporizers out of the box and see if I can get them to work as I envisioned. The Carta 2 is not as intuitive as it appears or as I thought it would be. For example turning it on requires 5 presses of the power button instead of just one and once you turn it on, I assumed the temperature up button would cause the temperature to go up and the unit to automatically heat,  but it instead the temp up button when hit one time triggers the session timer and then you use the up and down to set the session timer between 20-60 seconds. However if you have used any e-rig before this one will certainly be easier given the three control buttons and screen.
Next step is to fill your water chamber, we always advise to fill about 20% -25% full to start. It would be nice if everyone added a fill line such as Ispire put on the Daab water chamber, but it does detract from the hip factor and the Daab Vaporizer very much feels like the E-Rig anyone who is old enough to remember when VH1 played music videos would use.
Load your dab in your Intelli-Core atomizer, hit the power button five times to turn the Carta 2 on, then hit it two more to engage your session. The haptic feedback will trigger once you have reached temp. This is just to get a session going at your factory settings. You can use the quick start guide below to adjust your session accordingly. Also to be noted is you can load your dab after you have reached temperature (which is referred to as hot loading).
Carta 2 Button Controls
Carta 2 Button
Sequence
Operation
Press x 5
Power Carta 2 on and off
Press x 1
Session timer
Press x 1
Temperature Setting
Press x 2
Engage Session
Press x 2
(during session)
Extend Session 10 seconds
Press x 1
(during session)
Abort Session
Press x 4
Lock/Unlock Screen
Press x 3
LED Preset Menu
Press & Hold
Session Preset Menu
Sessions
The Carta 2 will heat up to the highest temp (635 °F) in 30 seconds and you can set the session duration between 20 – 60 seconds. The sessions on the Carta 2 feel really quick.  I like to do lower temperature dabs and sip on a rice sized grain of extracts for 2-3 hits. The Carta 2 just rips the whole thing into the stratosphere. It has pretty much been one and done even when not trying to take the whole thing down at once.
I am an outlier when it comes to dabs opting for smaller more flavorful sessions than large clouds that get you super elevated with just one hit. The Carta 2 is very much the latter and this master extractor delivers large volumes of vapor, quite smoothly I may add. I noticed this trend even in the low 500°F range. If you do want to pack large ones, we have seen the Focus V Beta testers and cannabis influencers show off how it can handle the larger globs for multiple heavy hits.
I would imagine part of this high velocity delivery has to do with the partial opening of the carb cap but am inclined to give most the credit to the Intelli-Core atomizer. I am yet to see a vaporizer take it all down in one fell swoop leaving no oil rings behind like the Carta 2 does. Even the Puffco Peak Pro 3D chamber does not extract like the Intelli-Core.
Temperature Range & Session Presets
The Carta 2 has a temperature range of 365°F – 635°F. At first I thought this was a tad low for the follow up to the OG Carta which reached 840°F, however after these sessions, I do see it more than does the trick.
The Carta 2 also comes with the session presets below which can be further customized in the Focus V App.
Sesh 1

–  60 seconds at 480°F 

Sesh 2

–  55 seconds at 495°F
Sesh 3– 

50 seconds at 515°F

Sesh 4 – 

45 seconds at 535°F

Sesh 5

–  40 seconds at 565°F
If you have no plan to program in your customized sessions, the pre-programmed sessions are kind of overkill given you can easily adjust the temperature and session times using the buttons with ease. However these session presets can come in handy if you are switching between different waxes, oils , rosins, etc. all with different viscosities.
Oddly enough as I found  the session presets totally unnecessary I started flipping through the LED presets and quickly found out LED preset one is my favorite. So goes to show, one person may think the LED presets are wacky and pointless while the sesh presets are quite nice and vice versa. 
Vapor Quality
I am really missing  the flavor with this new Carta 2.  While the original Carta was not big on flavor,  I was expecting the glazed quartz ceramic of the new Carta 2 to kick it up a notch. Playing around with the unit and seeing that it only got to 635°F I just assumed before my first dab this would offer some enhanced flavor.
Where the flavor falls flat, The Carta 2 on the other hand offers some rather large clouds and they go down smooth and easy. I had mentioned in the sessions segment of our Carta 2 review I  would try to make my pin sized extracts last 2-3 hits but it would all go down at once and nothing was left in the atomizer. The vapor was smooth with the stock glass and I definitely felt the effects. However my preference is towards flavor and smaller hits. It is a reason I have been so high and mighty on the Daab Vaporizer where others don't feel it delivers well enough.
Carta 2 App
There was some hope of the Beta app for iOS users only a few days ago, but it appears this is still weeks away. The app does look neat and vaporizer apps can be an added benefit for those who totally want to eliminate anything in the way of using your device manually
On Focus V's Discord some Android users are saying their app works fine while others are having issues. If you really want to customize the lighting, presets and engage in the social sharing functions offered by the app, then I would hold off on buying the Carta 2 until this is all ironed out. For those like myself who prefer their vaporizers without apps, buy away.
We will hopefully have more information on the Carta 2 app soon enough. Also to be noted is your level of tech savvy. If you are a software engineer you should have no problem getting your Carta 2 up and running using an Android operating system.
This is one area where there is something to be desired. The Carta 2 has an internal  Li-ion Polymer 2000mAh -7.4V battery. The unit will charge to 64% from dead in 1 hour and rounds out a full charge in 90 minutes. On a single charge you can squeeze about 10 sessions in with the Carta 2 losing nearly 7-10% battery for every 30 – 40 second sessions in the 525°F-635°F range. 
I was able to preserve battery life by setting the session to 20 seconds and disengaging the session after I took my hit. As mentioned above I was doing little pin drops; Would get one and done then just turn it off. This maximized the battery life, but even then it was losing about 5% per session. 
One saving grace is the ability to use your Carta 2 while charging (pass through charging) this ensures you will never be out of luck as long as you are close to a USB-C. 
Another accessory to look into for those who always want to be rocking at full battery is the Carta 2 wireless charger. This serves as a base to store your Carta 2 while keeping it charged via it's 1000 mAh of power. 
I honestly did not think I would ever transport my Carta 2, but sure enough I found myself heading over to a friend's who told me they were out of herb. Oddly enough as I was spending time reviewing the Carta 2. So I figured, let's load one up and take it over. 
The Carta 2 is not suited for portability by any means. None of these electronic rigs are [why we refer to them as desktop vaporizers while others may call them portable]. There are however bags and accessories which will accommodate transporting them in a safe and efficient manner. Focus V nailed this down well without making you need to go buy accessories after the fact. The Carta 2 comes in it's own bag with internal adjustable velcro straps and a stopper so you can even transport it around full of water. 
The stopper did a stand up job of keeping all the water sealed in tight with absolutely no leaks. If anything I would worry about the preloaded extracts falling out as the carb cap does not sit as snug as the Peak Pro Oculus Carb Cap and comes undone with ease.
The two main components to keep clean are going to be your atomizer and glass. After every session with any electronic rig you should do a swab with a Q-Tip no matter how small a session it be. 
To deep clean the Intelli-Core atomizer remove the rubber silicone jacket and place in 99% isopropyl for 2 hours. 
One of the best ways to keep your glass clean is to use a 420 friendly solution like Piece Water. This will minimize build up compared to tap water and the more build up the more long term staining your glass will accrue. Cleaning the glass, add in some 99% iso, toss on the stopper and give it some shakes. Extended Q-Tips work well in hitting the trouble spots. From here I like to boil my glass and dry it with a hairdryer so water spots do not form. 
Where I did not get residual oil circles on the atomizer, I did get a stained (chazzed) spots. I would chalk it up to the viscosity being different from what I use on the Peak Pro, Kandypens Oura, Ispire Daab –  but I have been using the same extracts for a while now. So I have to assume the Intelli-core extracts the most  efficiently but comes with the negative aspect of getting dirtier. Even after soaking in Iso overnight the Intelli-Core showed no signs of going back to pearly white. Oddly enough the Peak Pro 3D chamber had a similar issue during our review and comparison. There is a cool trick with sea salt and any accommodating cylindrical handle which will scrub out the stains and make your atomizer pearly white. (shown in the Peak Pro 3D Chamber Review)
The Carta 2 Review | An E-Rig That Delivers
The Carta 2 is a serious upgrade compared to the original. It is an electronic dab rig of the highest quality and is easy to operate to boot. The refinements from the controls, user interface, ambient lighting and atomizer all play their role in crafting an enlightening experience for the 710 connoisseur.
Our Carta 2 Vaporizer review only covered the concentrate capability which is it's primary function. There is an Intelli-Core atomizer for herb just as there is an herb attachment for the OG Carta, but we have said in many past vaporizer reviews – herb vapes for herb, concentrate vapes for concentrates.
The Carta 2 is well suited for those who want to take down some serious volume and are wanting to upgrade from their original Carta. Personally I would opt for the original Carta myself as it does a great job and provides immense value in the $199 range. The Carta 2 is going to be best suited for the multiple times a day dabber who really enjoys the texture and volume of vapor over the flavor and simultaneously wants the newest technology and sleek appearance that come with it. There is no doubt the Carta 2 knocks it out of the park on design and function.