The Puffco Peak Pro | A First Glance at What has Changed
In 2018 the Puffco Peak was launched and quickly gained recognition as the most innovative concentrate vaporizer,  giving dabbing pros and newbies alike an easy and hassle free way to enjoy waxes, shatters and oils –  opening the door for many new concentrate users by lowering the learning curve. 
The success of the Puffco Peak saw many spin offs like the Kandy Pens Ouora and Focus Carta V2, however the Peak even at the higher price point had solidified it's #1 spot as the best concentrate vaporizer. Roger and the Puffco team, not one to  rest on their laurels, have pushed concentrate vaporizer technology even farther, improving the blockbuster Peak vaporizer with the latest release, the new Puffco Peak Pro.
The Puffco Peak Pro | A First Glance at What has Changed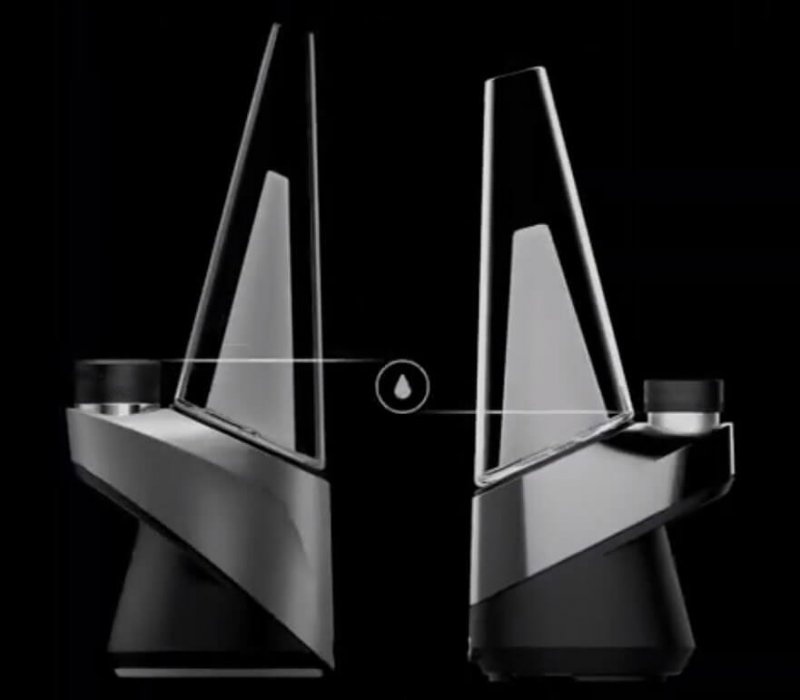 The Puffco Peak Pro glass remains high quality hand blown borosilicate glass, just like the original. The Pro glass has been elongated for more distance between the heating element and your mouth and increased water capacity – leading to an even smoother hit.
The thing I like most which Puffco did here was making the Puffco Peak Pro compatible with Puffco Peak V1 glass. So if you want to upgrade any of your old or 3rd party custom glass will fit snug on the Puffco Peak Pro. 
The Puffco Peak Pro boasts a 40% larger chamber than the predecessor for greater capacity.
The exterior design took some upgrades too with an enhanced matte finish and contour lines giving it a more futuristic look and a metal band for better ergonomics.
The USB-C Charging Port is something the vapor community has been very attament about wanting on nearly all new vaporizer upgrades. Many consumers felt a huge letdown when Storz & Bickel did not add it on the Crafty+. USB-C cables can carry significantly more power, so they can be used to charge larger devices.
A sensor embedded in the chamber provides real time temperature control. The improved feedback loop optimizes control and consistency of your atomizer's temperature regardless of how hard you are inhaling or how much material you have loaded.
The updated "Oculus Carb Cap" Provides a window into your chamber. Press Fit Connection locks into your chamber. This is a pretty sweet upgrade over the piece of glass carb cap on the V1 Peak. A locking cap  will also let you pack it up and go.
The App is perhaps the most notable upgrade to one's experience with the new Puffco Peak Pro. It boasts a plethora of features.
App Home Screen 
Peak Pro Temperature 

Daily Dabs 

Total Dabs 
4 Heat Presets 
Blue – 482 F

°

Yellow – 518 F

°

Red – 554 F

°

White – 590 F

°
Custom Presets 
All these can be adjusted and you can add more custom settings with your own desired temperature , time and LED color settings 
Boost Mode 
You can customize ever further with Boost Mode by adding heat and time to a session. For example if you want to increase temperature mid session automatically you could program that in with Boost mode.
Lighting  
The aesthetics of the Puffco Peak are something on to themselves. It is considered to be a very social vaporizer and many custom renditions were released which essentially were just different color patterns of the OG Puffco Peak. The Puffco Peak App and custom lighting selections will turn your Peak Pro into a beautiful light show based on the new light up settings:  Pulse, Wave, Disco. Of course Puffco incorporated a Stealth mode as well, for the times you need to dab without drawing a crowd.
A featured accessory adds an extra level to your experience. The Peak Pro Power Dock (not included with the Peak Pro) is a wireless charger that also provides a secure base for your Peak Pro.  Better yet the Peak Pro Power Dock works as a portable power bank that can charge your vaporizer, or any other USB electronic device on the go. A wireless charger for your Peak Pro, a sturdy locking stand and a battery pack all in one. 
An added benefit to the Peak Pro External Charger is Ready Mode. Ready Mode is a feature which powers your Peak to your favorite setting once you pick it up off the dock. It can be programmed  with the app and lets you start enjoying a session, without needing to press a single button, the moment you pick up the vape. 
                     Additional Specs 
Two Full Charges 

Two Hour Charge Time

25-30 Sessions Per Charge
While there are some additional differences such as the button sequence to operate and the new magnetic carrying case we at To the Cloud Vapor Store have yet to put the new Peak Pro in our hands and try it out. When we do we will make sure to add our full review and comparison. 
If it is anything like the Peak V1  we are sure the the New Puffco Peak Pro will provide the most consistent, controlled and easy to enjoy dab experience ever